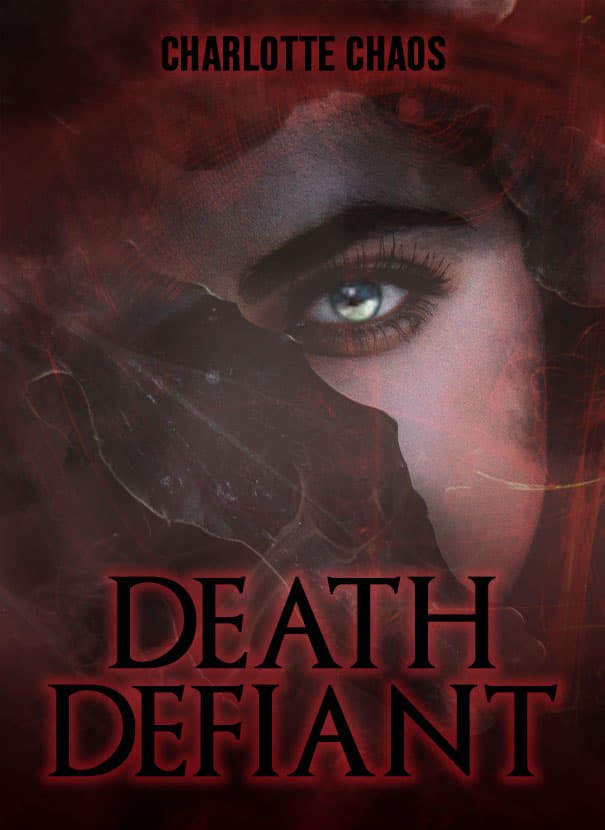 It is great to have you here, Charlotte. Please tell us something about your book.
Death Defiant is an R18, dark, gritty, and chaotic why-choose novel.
Amara is sick. Life-altering sick. With no answers as to why, she finds only more questions when she meets two men in a grocery store and finds her life-long symptoms vanish only with them.
But that isn't even the tip of her insane iceberg…
Caden and Ethan are shocked when they discover their fourth Horseman in the grocery store they work in… And she's a woman! How will they break this news to her when she doesn't seem to remember who or what she is?
Tristan is in Purgatory at the bar, fighting off a horny imp, and desperately attempting to ignore the loud and proud flamboyant Reaper named Hans. Who is all sparkle and no chill, along with his pet unicorn that eats hell tacos. When Tristan gets the call their fourth has been found, he's less than impressed by what he hears.
Follow their story as they discover why Amara has no memory of who she is, and watch as she becomes unhinged every time she uses her newfound powers. They'll have to fight angels, demons, and everything in between, search for the truth about the apocalypse they are supposed to bring about, and why Heaven and Hell will do anything to stop it from happening.
How did you come up with the idea for the book?
Angels, demons, and that lore has always fascinated me, but none so much as the apocalypse and why it happens. What is the reason and who are these beings who bring it? And what if they were just regular people with a screwed-up past, one not wanted, fractured being? Four parts to a whole?
How would I rewrite these myths and stories? And it sort of snowballed from there into the chaos it is now. I love making ridiculous, intense, and relatable characters. Even if they are totally off the wall. Many of my books also have hidden messages, and this one is no exception.
Sounds interesting. Any warnings?
This is a dark, why-choose romance, with lots of violence, gore, kink, and sex, and it touches on mental health issues. It's not for the faint of heart. We have some crazy characters here–don't say you weren't warned.
Can you tell us more about yourself?
I'm actually pretty sunny, playful, and love to have fun. I believe in mind/body health and feel like we all need to make sure we do things that feed our souls. I practice yoga, eat all the sweets and play several musical instruments. I live in Orlando with my family (hubs and son) and we have a menagerie of animals. Writing is a creative release from my demanding day job and has actually helped me improve my memory as I suffer from an autoimmune disease that has been greatly impairing my short-term memory. Comments and love from readers are a huge motivation and one reason I enjoy serialized platforms so much because you can see comments before the book is finished and it helps with encouraging the writer.
I can only agree with that. Where can we read your book?
With Resurgence Novels, a new platform for serialized fiction. After you download the app, the first couple of chapters are free to read and new chapters are updated weekly.
And finally, what is the best way for your readers to find you on the Internet?
Spotify playlist: Charlotte-Death Defiant
TikTok @charlottechaosauthor
Insta: charlotteschaoscorner