"The Royal Pack" by Anne T. Thyssen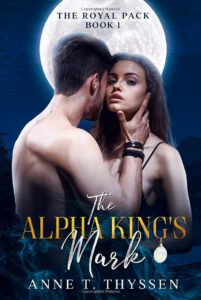 It is great to have you here, Anne. Please tell us something about yourself.
Hi! My name is Anne. I began writing back when I was around six years old and just never stopped, but got serious about it almost two years back when I decided to try it full-time. It has been challenging, but I also love it. I am from Denmark and write both English and Danish books. I am 23.
You've written a lot of books. Which one do you want to tell us more about?
True, I have written quite a lot of books, around 50, but after a lot of discussion and disagreements with the site Dreame, I have begun a completely new series called "The Royal Pack," named after my loyal readers, and that is the one I will talk about.
The first book in the series is called "The Alpha King's Mark." It just came out on Amazon and Kobo, but can also be read on Ream and Patreon. The book is a paranormal romance with enemies-to-lovers theme where we follow Marcos, the king of all supernatural beings, and Marcella, the wolf raised by a vampire sent out to end his life. The moment they meet, however, they learn they are mates and Marcos, who wants them to be together, must help Marcella learn how to be a werewolf and what it means to be mates. Unfortunately, Marcos has a lot of enemies, and Marcella is not so easily won over.
Where did you get the inspiration for your book?

The inspiration to write this book came from my wish to start over from Dreame, where I have another very long paranormal romance series. Thematically, "The Royal Pack" is inspired by a vampire series I love, called "The Black Dagger Brotherhood."
Where can we find you and your books?
The sites I write on are Amazon, Ream, Patreon, Goodnovel, Dreame, Anystories, Resurgence Novels, Inkitt, and Wattpad. Some sites I am not active on anymore like Anystories, but my books can still be found there. I am very active on all Social Media, so you can find me pretty much everywhere: Facebook, Instagram, Linkedin, TikTok, and Twitter.
The best way to discover more about me and my books is to visit my website, www.annet.thyssenbooks.com
Or you can find the links to my social media accounts on my Linktree.
Plus I have a Facebook group people can join to connect with other readers, have some fun, and enjoy some giveaways.
In the front picture leading to this page, you can see all the books I have on Amazon. I have too many books to fit in one picture, but you can come find me to learn all about them!